ECOSYSTEM OVERVIEW
Transit audience engagement, simplified.
eTransit is a unified, cloud-hosted platform for reaching riders, job seekers, businesses, and general community stakeholders.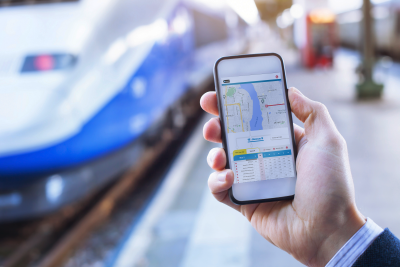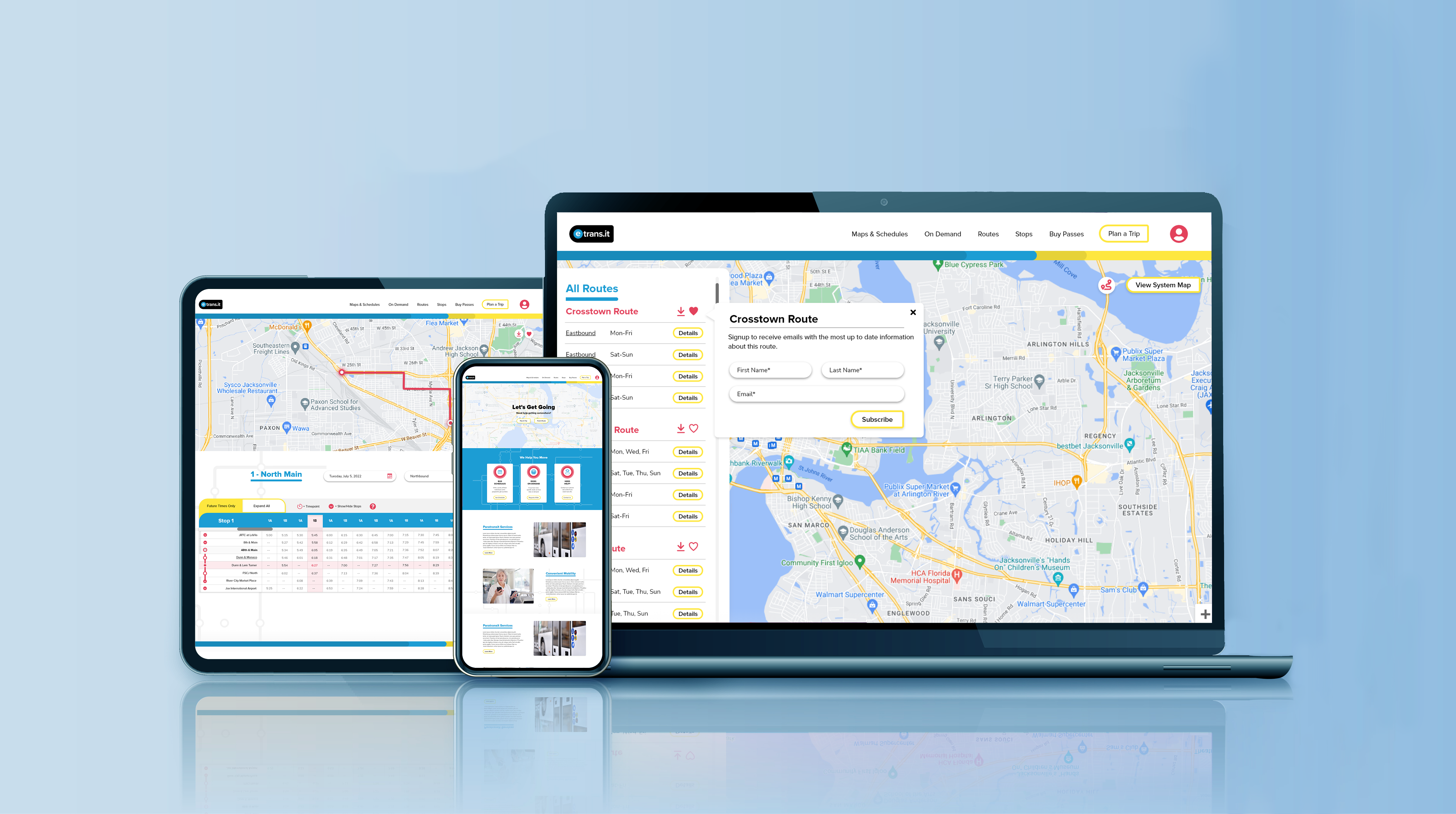 THE BRIDGE BETWEEN OPERATIONS AND YOUR TRANSIT AUDIENCE
A completely integrated public transit web presence
We do the heavy lifting so that you don't have to. eTransit's powerful tools ensure that your agency engages in an effective and frictionless manner with your audience's digital-first expectations.
Digital, mobile optimized fixed routes and schedules website capability with GTFS integration, services alerts and GTFS RT (Real Time).
Zone-based P2P ride hailing for micro-transit. Verified para-transit customer management and ride hailing capability.
Market, advertise, and manage bids and RFPs. Manage the participation process. Vendor management and marketing.
Vacancy advertising, web and SEO optimized display of open positions. Automated job board posting and job ad management system.
Manage agency-wide public events, and measure attendance. Host and market events with landing pages. Market your upcoming events to targeted contacts in your CRM.
Your agency needs a dedicated, ADA-compliant, hosted website with customized branding. Our CMS has feature-rich functionality and full platform integration out-of-the-box.
Marketing Data Intelligence
Measurable tactics provide opportunities for improvement. Gain insight from analytics on marketing and communication efforts, email sends, web traffic, and audience engagement.
Develop structured relationships with nearby transit agencies and inform your audience of extended transit possibilities. Share data and extend your reach into nearby municipalities.
Local & National Advertising
Offer ad placement on your agency's digital properties. Extend your ad reach into partner agency sites, both local and national.
Every interface is optimized for mobile usage. Your audience is constantly on the go; meet them where they are.
When operational engagement is no longer enough, stay ahead of the curve with email and SMS marketing capabilities.
We take care of the infrastructure for you so that your team can focus on operations and reduce maintenance and security concerns over the long term.
ELEVATE YOUR TRANSIT AGENCY
A rising tide lifts all buses
Our values stem from the desire to make impactful, restorative change to the environment and communities. As marketers, we want to use our decades of experience and knowledge as audience influencers to make transit more accessible and universal to all.
Technology must be intelligently utilized on the "front-end" of transit. For decades transit tech has been focused solely on back-end operations.
By using technology and best practices we hope to remove barriers that inhibit public transit participation and impart positive, measurable, and sustainable growth of public transit within communities.
Consistent Customer Experience

Consolidated Features and Data

National Reach

Inter-Agency Connectivity
Transit data is common among agencies. Why communicate yourself differently?
Consistency is key for public transportation. Your audience expects reliable and user-friendly service, and at eTransit we believe that transit data and services should be similar across agencies. This reduces friction for new riders and also guarantees that regular riders can quickly and easily find the information they need to get through their day even when they are using transit services outside of their familiar routes.
Average mid-size companies use over 75 different software tools to manage their business.
Digital is becoming more difficult by the day, even as your customers are becoming more savvy at consuming content and demanding more from the digital platforms companies use. eTransit lets you stop struggling with the usage of multiple, non-integrated tool and improves communication with your audience by consolidating critical digital tools into a single powerful platform.
Get a bigger megaphone!
Transit often requires specialized resources such as talent and vendors, so eTransit offers national advertising opportunities for information such as solicitations, open job positions and national event advertising. Your agency can use our digital tools to achieve a reach far beyond what you can do on your own.
Nearby agency and partner connectivity options
By housing custom and operational data for both your agency and nearby agencies, eTransit can bridge the gap in regional connectivity by offering a seamless customer experience. Data can be shared across partner agencies and displayed in multiple locations.
When will eTransit be publicly available?
Now! If you are a small to mid-sized transit agency looking to dramatically improve your digital ecosystem or to just "get a new website" then you'd be a great fit for eTransit.
Is eTransit ADA accessible?
Absolutely! Accessibility is a core tenant of everything that we do. Our mission is to unify transit agencies large and small and provide a set of standards for public transportation that can provide reliable results. All of our user-interfaces are tested and guaranteed to be ADA accessible. We also offer monitoring and testing services for ongoing content creation to prevent your site from falling out of compliance as time goes on
How much does eTransit cost?
You'll need to contact us for this. We can work with you to make sure we design the best possible solution for your budget.
Are there opportunities for customization?
We're always looking for areas to improve. If you feel that you'd fit if we only just had that one feature, let us know! Our team of developers can work with you to customize the platform to fit your needs.
eTransit
Modern Mass Marketing for Public Transportation